Details

Category: Free Joomla simple templates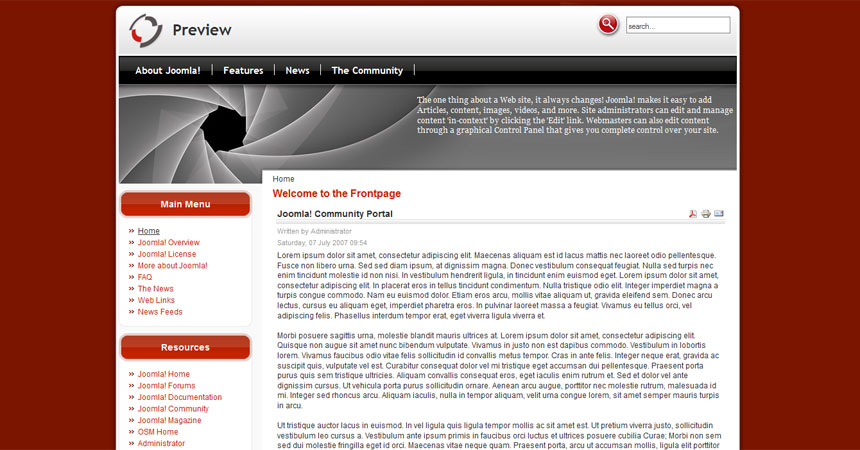 Perform live with this free template Joomla – Vortex !
Get more space for your valuable content.
If there is any need for you to change the color of your design theme, where your daily moods or intentions soul say so?
Joomla Vortex have unique flexible design – spacious middle area, content-filled bottom and top interactive, it will always move with you and your emotions.
What are the advantages of Joomla template Vortex?
a)Multi-Color support. Anytime you can choose from five colors: red (default), blue, green, brown and black.
b)Advanced functionality. More modules are supported currently. Additional lower gray zone was added. Gray zone is divided into two predefined sections – USER 1 and USER 2 (those that contain the default script Joomla). These sections you can use to post Latest News Polls archive, etc.
c) More advanced functionality. The template default TOP area, containing (by default) of Newsflash1 module can be replaced with custom module. The module is located at the top of the flag, the font is white.
The theme is tested with Joomla 1.5.3
Width: 989px.
Columns: 2.
Features:Yes.
If you want your Joomla site to be fresh, you can change the color scheme very simply by following these instructions:
- Make sure first that params.ini file is writable on the server.
- In order for 1 to FTP, you must click on a remote file with the right mouse button and select Set Permissions or Change Attributes from the context menu and specify the appropriate write permissions. Note: For the majority of servers 0775 would be ok, but some servers also require 0777.
- Go to Extensions Manager-templates in Joomla admin panel and click on the template and change the color variation from the select box in the section parameters.