Details

Category: Free Joomla 2.5 templates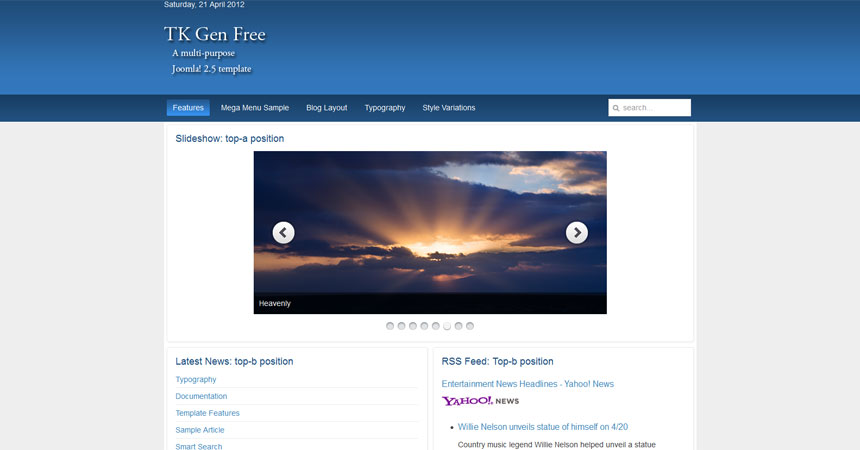 Free Joomla 2.5 template with a slideshow in the header. Stylized simple template designed for news events and the everyday experiences of ordinary blogger. Template is designed and built with a design idea and the graphics used in it, will not divert the attention of your guests.
With the ease of changing images in the header template can become a site for a school or small business site or web services portfolio. You can change the look and feel, switching between the blue light (default) and blue dark color schemes.
Some of the features
- Warp Theme Framework engine
- Horizontal mega menus
- Vertical accordion menus
- Built-in javascript/CSS compression for better performance
- Bulit-in Gzip capabilities for additional performance increase
- Adjust column widths and other settings from the template admin panel fast
- Put fast you social icons from the admin panel (Google+, Twitter, and Facebook)
- Adjust settings and save custom preset profiles easy
- 15 default collapsible module positions – up to 6 modules per position
- Adjustable module layouts (equal, double, and stack)
- Utilizes latest web technologies (HTML5, CSS3, and PHP5.2+)
- Handy To-Top Scroller (try it out by clicking on the arrow icon at the bottom right of the footer)
- Insert slideshows, lightboxes, and twitter feeds with the widgetkit lite extension (included in zip package)