Details

Category: Free Joomla professional templates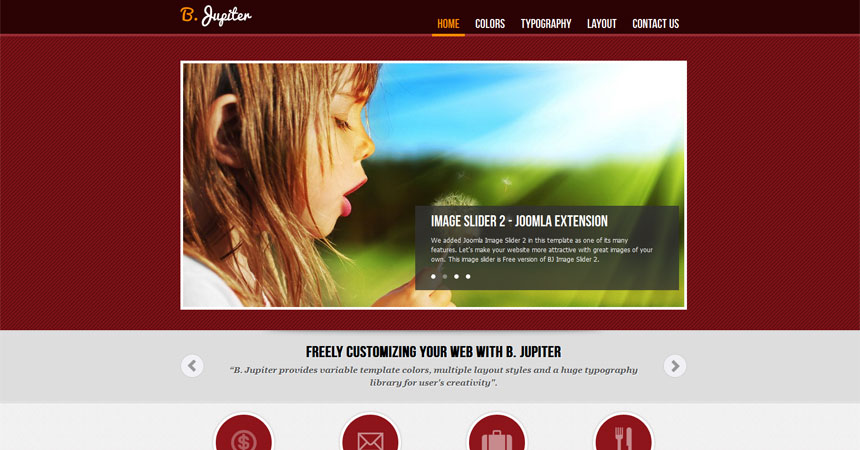 ByJoomla.com are among the professionals that offer great templates for Joomla, both free and paid. Their presence on the market for Joomla templates dates from for many years.
They have demonstrated their quality, and now provide a free opportunity for you. Try this free cool template B. Jupiter, which can be downloaded for all versions of Joomla.
These are just some of the options that are included in B. Jupiter:
- Table-less & CSS-based
- Adjustable layout
- xHTML & CSS validation
- Cross browser compatible – Support Chrome, IE7 +, Firefox 2 +, Safari, Opera
- SEO friendly with SEO parameters
- Flash-Free (easily browsered on mobile devices)
- Compatible with Joomla 1.5, 1.6, 1.7 and 2.5
- Fast Directly Technical Support (available for PRO and DEV customers).
- Many build-in Modules (some of them are included in the download package) for smarter and more effective content presenting:
— BJ Image Slider II (Free version)
— BJ Headline Roller
— BJ Dropdown Menu
— BJ Social Plugin
— BJ Photo Gallery
— BJ Facebook Extension
- Simple CSS-based customization
- Large Typography Gallery (bullet list, dialog, icons, buttons, modules…) view details.
- 6 colors
Important: Before install first Unzip the package.