Details

Category: Free Joomla news templates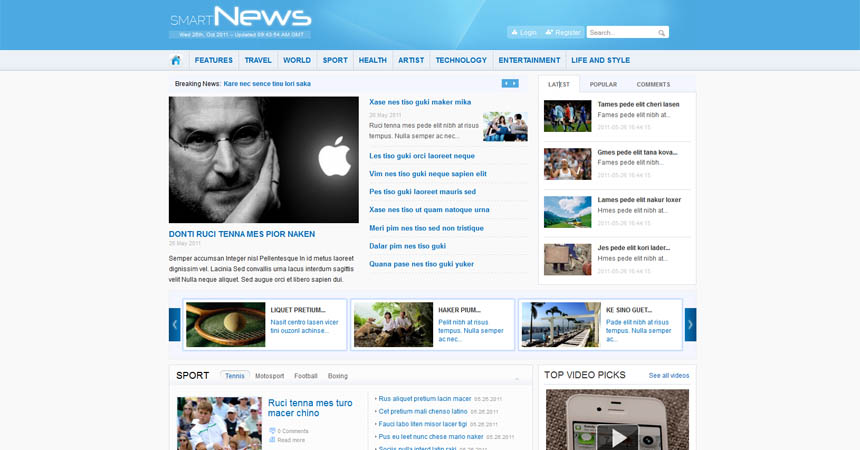 Extremely comprehensive resource dedicated template for sites that have huge resources of information.
News, support materials, resources, design and many other Web sites will remain very pleased with this template.
This Free Joomla 1.7 news template has Yt News Frontpage module with 4 nice themes for presenting new articles on the header template, all those features you can use.
Inside the content, you will find Yt Mega News II – one of the newest modules for content of smartaddons or Yt News Ajax Tabs, Yt News Scrollbar, . You can fully customize these modules for your site if you want to change another design.
This free Joomla 1.7 template support for 4 types of showing menu – CSS Menu, Moo Menu, Mega Menu, Dropline. There has been used some free extensions for the template. On the top, we use Yt Titleflash module.
- Ready for Joomla 1.7
- Ready for many types of menu: Moo Menu, CSS Menu, Dropline Menu and Mega Menu
- Ready RTL, LTR language
- Ready Module Variations
- Ready many extensions: Yt News Frontpage, Yt Mega News II, Yt News Ajax Tabs, Yt Content Simple Tabs, Yt News Scrollbar, So Article Slider, Yt Content Category, Yt Content Accordion
- Ready Typography: Images Styling, Icons style, Buttons
- Ready Site Styles: blue and black
- Ready for Window layout, Mobile layout, Iphone layout, Android layout and Handheld layout
- Compatible IE 7+, Safari, Mozilla Firefox, Opera, Chrome
- Ready Lavalamp Effect for Moo Menu and Mega Menu